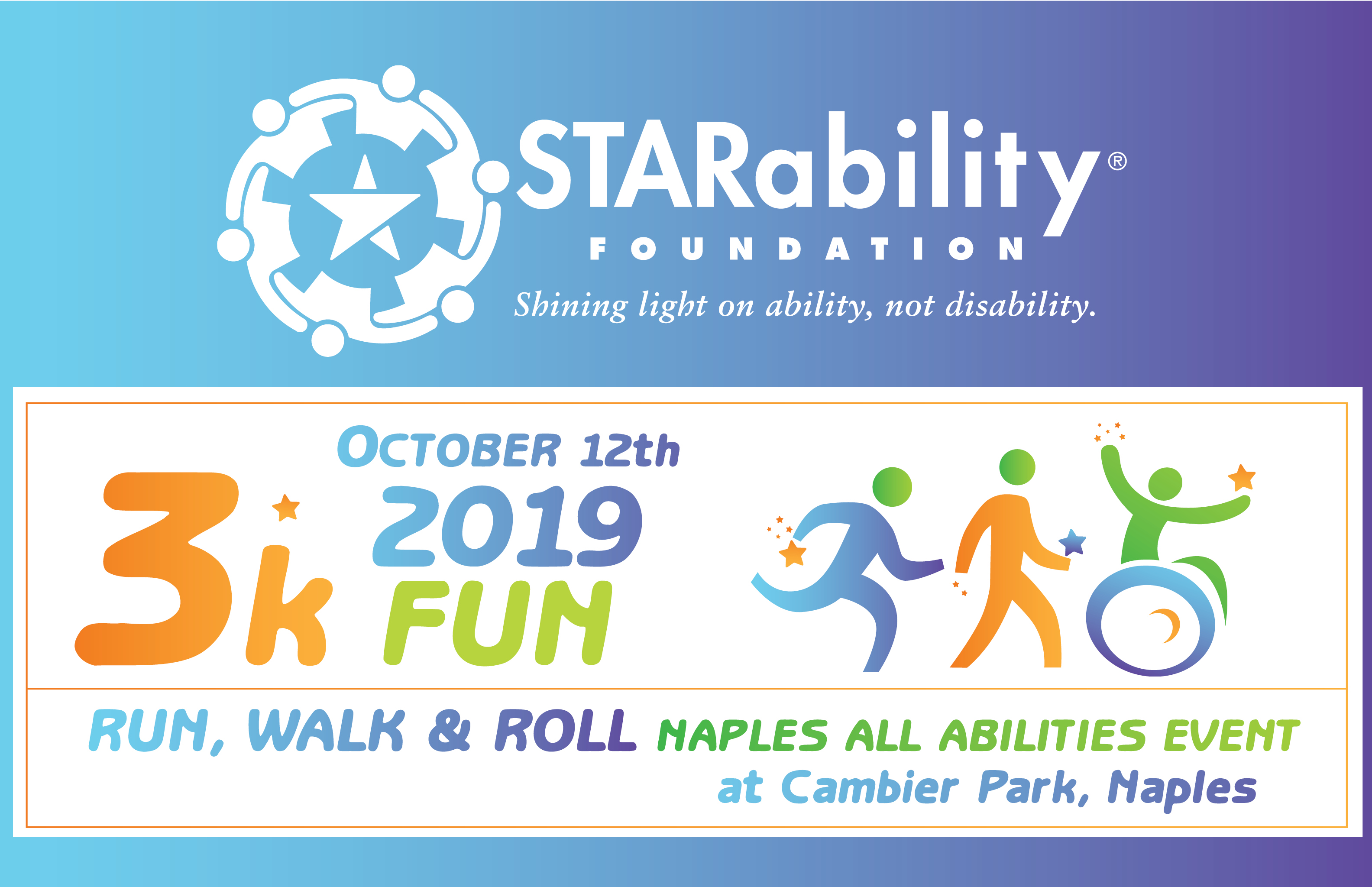 Mark your calendars for the STARability Foundation 2nd annual 3K Fun Run, Walk & Roll on Saturday, October 12 at Cambier Park, located at 755 8th Avenue South in Naples.
The Fun Run will be for all ages and starts at 8:00 a.m. with registration beginning at 7:15 a.m. After the race, attendees may enjoy music, sponsor booths/exhibits, and healthy food and refreshments provided compliments of First Watch.
Attendees will have the opportunity to learn more about the STARability Foundation and their programs at the event which has been designed to bring exposure to diverse members of the community. Proceeds will benefit STARabiltiy programs for individuals with disabilities and their families.
The public is invited to take part in this fun family event. Registration for this "All Abilities" event is open to the public; fees are $25 for adults and $15 for children 10 and under. To register please visit www.starability.org/3k-fun-run-registration.
Sponsors helping make this event possible include: Gulf Coast Runners, Naples Pool Service, Inc., Cherry Hill Tattoo, and Paragon Theaters Pavilion Naples.
Sponsorship opportunities are still available; for more information please email info@STARability.org or call 239-594-9007.
ABOUT STARability Foundation
The STARability Foundation exists to Support people with intellectual and developmental disabilities by providing life-transforming opportunities that emphasize Teamwork and connection to the community to build Awareness and Respect for their individual abilities. A professional staff and more than 100 volunteers deliver a full calendar of engaging, innovative and creative programs to ensure that members, currently ages 14 to 70, have the quality of life they seek and deserve after aging out of school-supported services.
For more information about the Naples nonprofit and its programs, go to www.STARability.org or https://www.facebook.com/STARabilityfoundation.