Speaking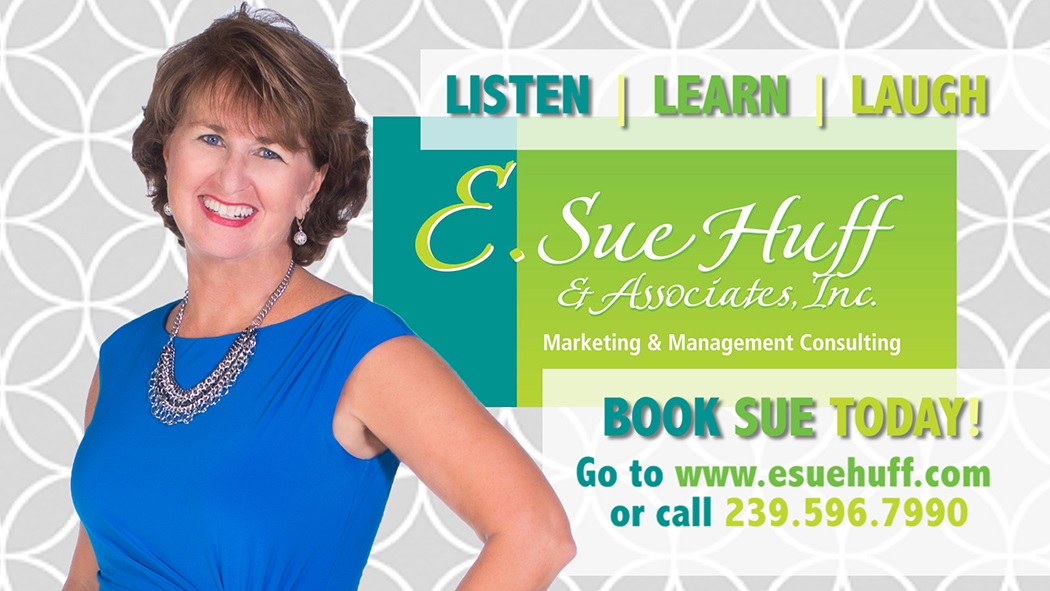 About the Speaker:
Sue Huff, a native of Southwest Virginia, is the owner and president of E. Sue Huff & Associates, Inc. Marketing and Management Consulting. The firm is based in Naples, Florida and has earned the highest reputation for their honest and down-to-earth business approach. Sue's extensive business background in the printing industry, along with her entrepreneurial experience, led to the development of her consulting firm in 1996.
E. Sue Huff & Associates, Inc. helps clients develop, administer and plan their marketing strategies as well as provide gap management and other management services for those companies who find themselves with too few senior managers to complete projects.
Our associates can speak on a variety of business topics and we can customize a lecture, speech or training session using your topic of choice.
Topics may include:
Marketing Related
10 Tips for Marketing Success for the Small Business
Being Social
Networking with a Twist
Creating WOMAD Campaigns (Word of Mouth Advertising)
Understanding the 4 P's of Marketing
Creating a Marketing Plan that Works
Understanding the Basics
Understanding our Target Market
Writing Press Releases that get attention
ROI – Understanding Your Return on Investment (ads, campaigns, etc.)
Or we can build a custom presentation to meet your needs
Management Related
Management Basics – What every manager needs to know to grow the business
Motivating the Team – For sales departments, managers, and human resource departments
Hiring for the Right Stuff
Customer service for internal and external customers
Reading Body Language – For sales departments and human resources
Time Management – For managers and staff
Creating Plans – For sales departments and human resources
Saying What You Mean – For managers
Building a Team – For managers and supervisors
Training
E. Sue Huff & Associates, Inc. can help you with many areas of training for your business, whether it is marketing or management issues and topics. We can assist your staff to see the big picture or the minute details more clearly.
Sue has been delivering fun, fast paced seminars and speeches for many years. Her theatre and radio background give her a different dimension. Her audience participation helps attendees to retain and remember information that is helpful and practical, information and tips that they can immediately use.
Training and Speaking engagements have included:
Thinking Outside the Box for Non-profits (Annual Seminar founded in 2009
Greater Naples Chamber of Commerce
Florida Gulf Coast University
University of Florida – FastTrac™ Entrepreneurial Programs
FastTrac™ Growth Venture Program
FGCU Small Business Development Center
Women's Networking of Collier County
Kingsport Chamber of Commerce
Rotary Clubs – Naples
Collier Building Industry
City of Cincinnati
Hodges University
Kingsport (TN) Office of Small Business Development and Entrepreneurship (KOSBE)
United Arts Council
Above Board Chamber
SCORE
Women's Network of Collier County