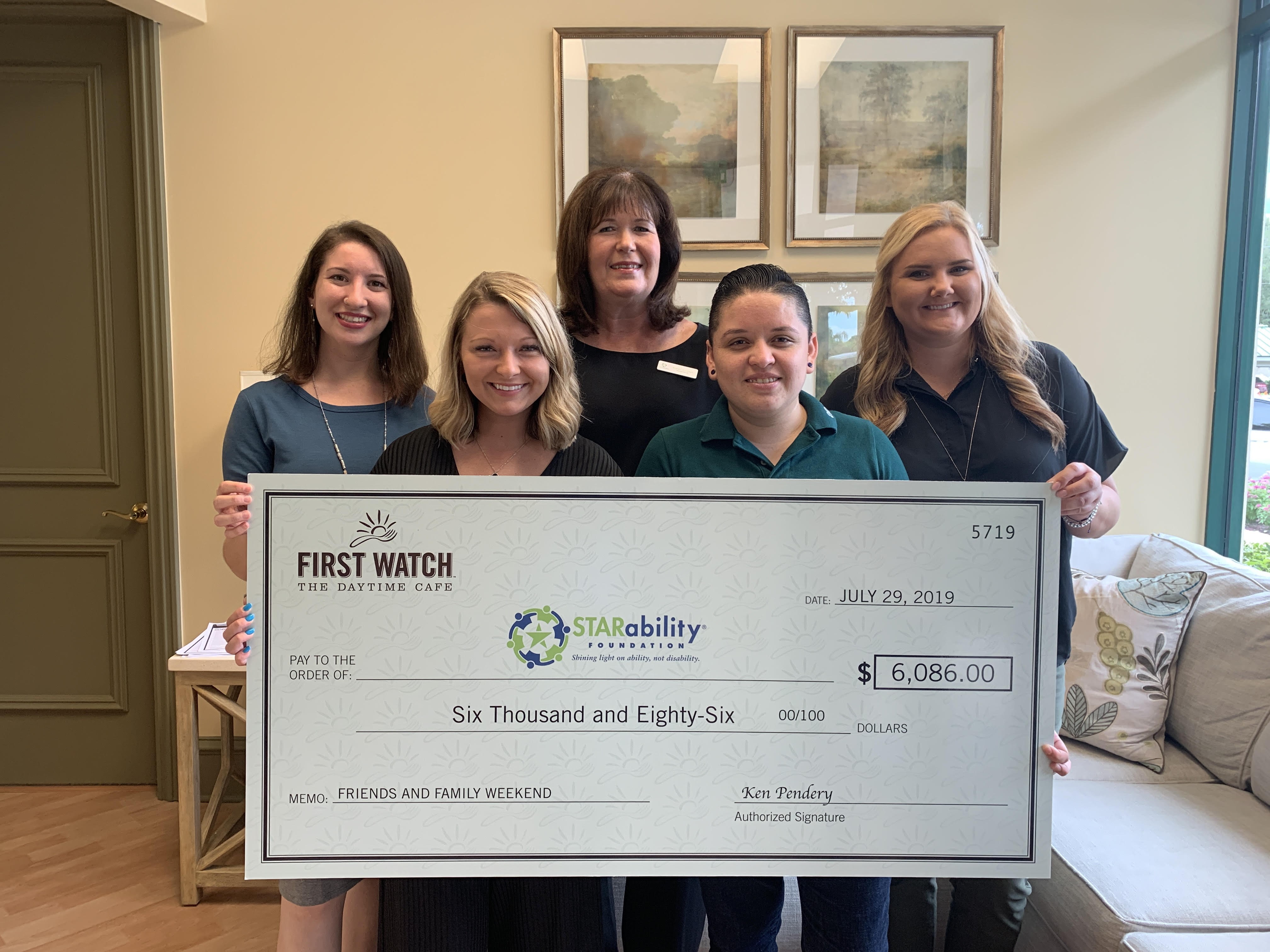 The STARability Foundation was the recipient of a "Friends and Family Pre-Opening" event held at First Watch in mid-July at their newly opened restaurant located at 900 Neapolitan Way in Naples.
The special fundraising event was held during the restaurant's soft opening; all who attended were treated to a complimentary fresh breakfast, brunch or lunch entree of their choice plus a beverage. Each guest was asked to donate a minimum of $10 with 100% of the proceeds benefitting the STARability Foundation and, over the two-day opening, funds raised through donations at the restaurant amounted to $6086. And, an additional $1,000 was donated to STARability as a result of this event.
A check was presented to STARability in August by Kelsie Davidson, Regional Marketing Manager of First Watch, and Gigi Sendejes, First Watch's Park Shore General Manager.
"We are so grateful to have First Watch as a community partner. They support our mission of shining light on ability, not disability," says Karen Govern, STARability Executive Director. "This event was a wonderful gift."
ABOUT STARability Foundation
The STARability Foundation exists to Support people with intellectual and developmental disabilities by providing life-transforming opportunities that emphasize Teamwork and connection to the community to build Awareness and Respect for their individual abilities. A professional staff and more than 100 volunteers deliver a full calendar of engaging, innovative and creative programs to ensure that members, currently ages 14 to 70, have the quality of life they seek and deserve after aging out of school-supported services.
For more information about the Naples nonprofit and its programs, go to www.STARability.org or https://www.facebook.com/STARabilityfoundation.
Photo – Left to right:
Susan Ford, STARability Program Coordinator
Madison McNally, STARability Program Director, Trailblazer Academy
Karen Govern, STARability Executive Director
Gigi Sendejes, First Watch – Park Shore General Manager
Kelsie Davidson, Regional Marketing Manager, First Watch Restaurants, Inc.